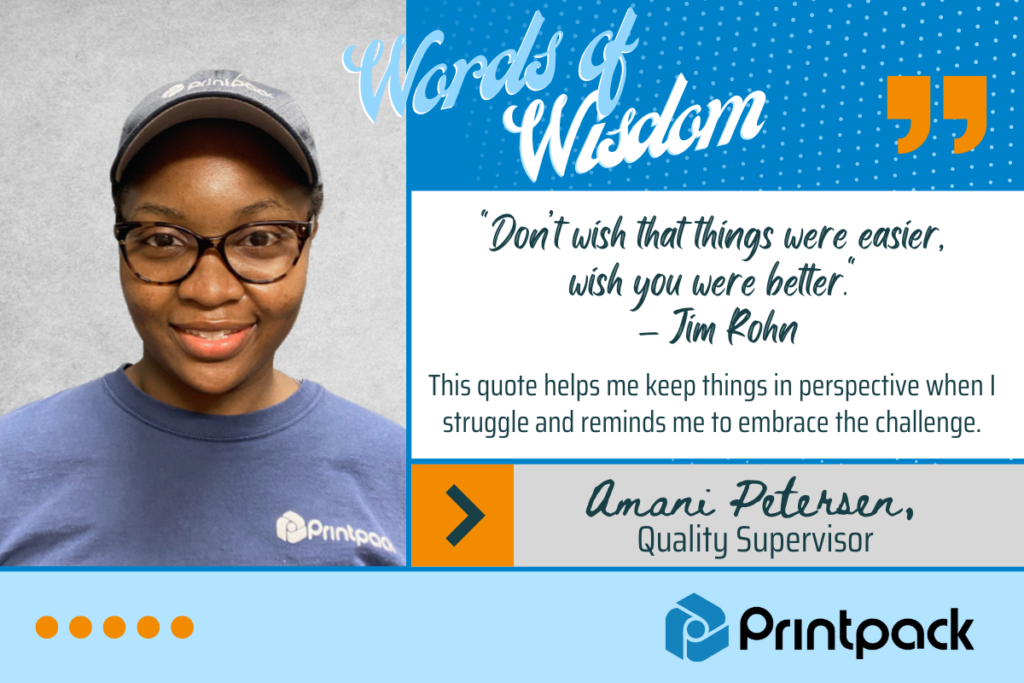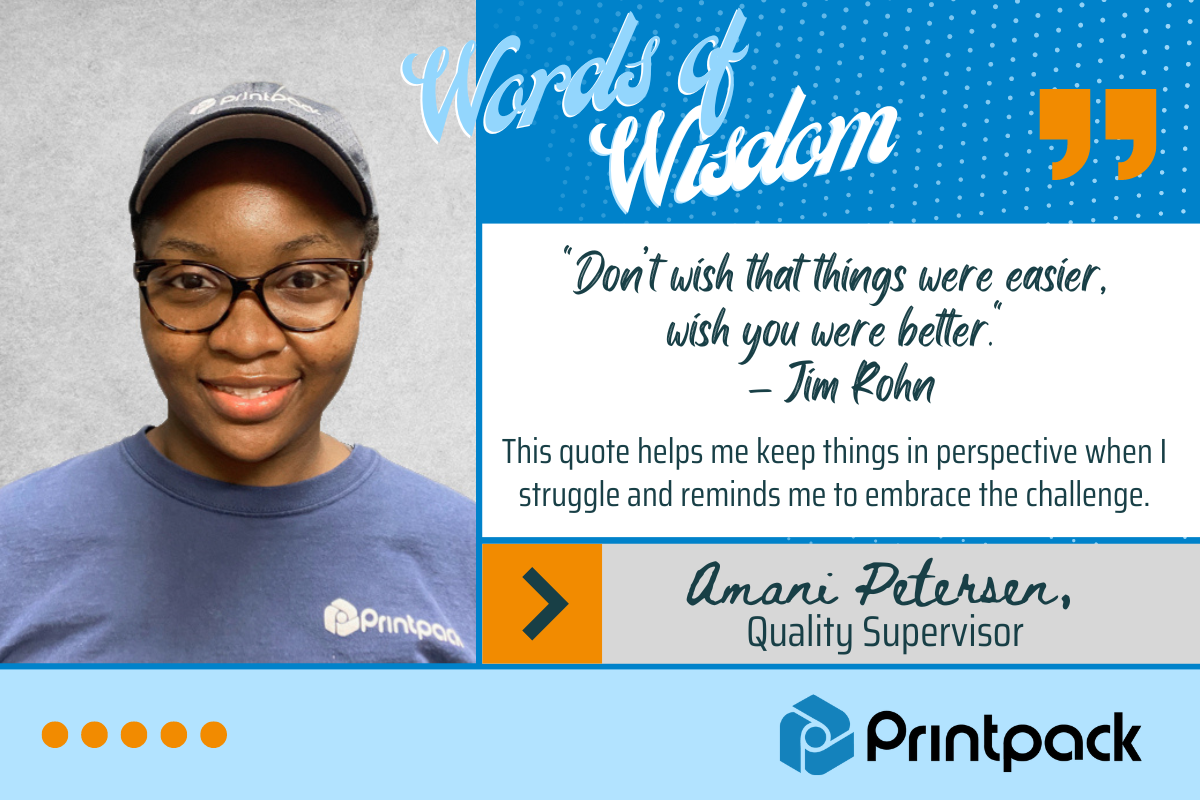 A Printpack Associate Spotlight Series
Meet Amani Petersen: Quality Supervisor, Printpack Villa Rica, GA
Back in 2020, Amani Petersen was looking for a consistent manufacturing experience when she joined Printpack in Villa Rica, GA., as a 3rd shift Quality Technician. A couple of years later, compelled to learn more and grow her career, she felt inspired to apply for the Quality Supervisor position.
"I wanted to work for a company that gave me the tools I needed to succeed. When I joined Printpack, I had only done one internship, but it was not hands-on. The experience of working here has pushed me out of my comfort zone and sharpened my ability to troubleshoot and solve problems more efficiently. Printpack has reshaped my working experience tremendously," Amani remembers.
Raised in the industrial area of Augusta, GA, Amani is a longtime fan of the manufacturing industry and engineering careers. She first heard of Printpack while attending classes at Georgia Tech in the building named after Printpack's founder J. Erskine Love. Working full-time at Printpack, while studying, she gained an appreciation of Erskine's accomplishments and the impact he made on the packaging industry.
Amani's manager, David Poppe, believes she is bright, innovative, and creative in her solutions to quality improvement opportunities. "Her positive attitude, customer focus, and strong drive will serve her well in her new position as Quality Supervisor at the Villa Rica 1 plant. I look forward to her future contributions to Printpack for years to come," he said.
Today, in her supervisor role, Amani embraces challenges, supports, and motivates her team to become better every day. Together, they ensure the best possible product is reaching Printpack's customers. "We collaborate with several teams throughout the company to ensure we deliver on our promises. I find it fascinating to work in a dynamic, ever-changing, and enjoyable teamwork environment, like the one I found at Printpack," she explains.
When asked what she likes most about Printpack, she shared that "Printpack has the family feel of a small business, but also the opportunities and technical expertise of a large company. Everyone is very personable and accessible. It's the best of both worlds."
Amani has many plans and dreams for her future. "I would like to pursue a long-term career at Printpack, like the co-workers who trained me. I know there are many opportunities to grow here. Outside of work, my bucket list is filled with trips around the US and abroad. I hope I can get to know many places and experience different cultures," she says.
Printpack is one of the largest and most innovative packaging converters in the world. At Printpack, we pride ourselves on honesty, integrity, and innovation. Our associates collaborate to continuously improve our company, allowing them to reach their fullest potential. Become part of the family; we are Printpack Proud.
To read more about life at Printpack and our open positions, click here.
About Printpack
Founded in 1956 and headquartered in Atlanta, Georgia, Printpack is a privately-held flexible and specialty rigid packaging manufacturer. Employing over 3,200 associates worldwide, the company operates 19 manufacturing facilities in the United States and Mexico. With investments in leading-edge technologies and a deep understanding of customer needs, Printpack has partnered with the most successful CPGs to launch new products and grow market share. Printpack's purpose, Preserving and Enhancing People's Lives, is continually demonstrated by the commitment to sustainable products, active involvement in the local communities, and the empowerment of all associates.