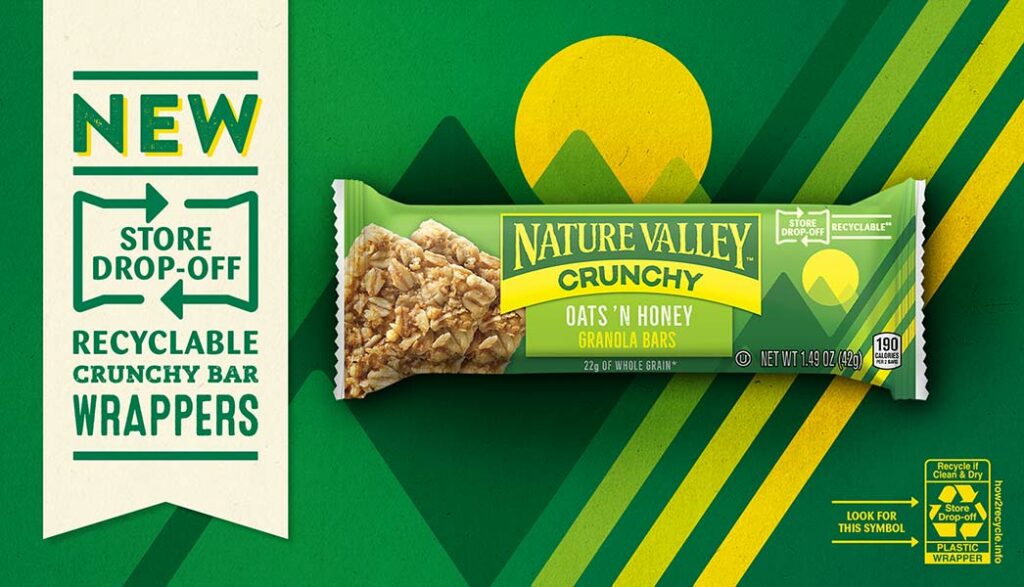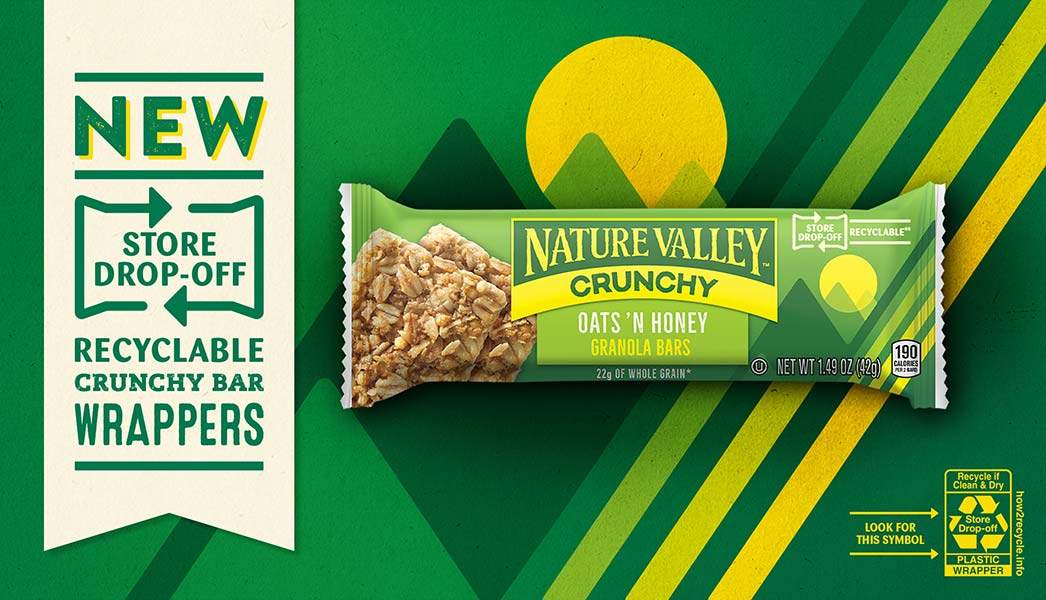 Printpack partnered with General Mills to develop the first plastic film wrapper designated as Store Drop-Off Recyclable by How2Recycle® for the snacking industry. This bar wrapper, made from PE, was created for the iconic Nature ValleyTM Crunchy granola bar. The newly packaged bars will be on shelves this spring helping to bring Nature Valley closer to achieving its commitment to 100% recyclable packaging by 2025.
"It's so exciting to see something that has been in the works for years to be launched on the store shelf! From working with film makers, to our plant folks in Rhinelander and at General Mills, all the way through the supply chain to recyclers, this has truly been a team effort. Congratulations to Nature Valley!" says Wil Goetsch, Product Development Engineer dedicated to General Mills for Printpack.
How2Recycle is the preferred label for recyclable packaging, and the most widely used format for recycling currently. In the US, there are over 18,000 store drop-off recycle locations collecting plastic film with the How2Recycle logo. Many of these recyclable structures were made commercially feasible with oriented polyethylene. "Oriented polyethylene film will be a key tool in Printpack's toolbox going forward since it retains many of the physical properties our customers are accustomed to like clarity, stiffness, and heat resistance while still being compatible with the PE recycling stream," says Daniel Cluskey, Product Stewardship Engineer at Printpack.
About Nature Valley
Nature Valley believes that nature brings out the best in all of us. That's why the brand continually strives to connect people to nature not only through Nature Valley bars, but also outdoor experiences. The brand is committed to acting as an ongoing force for nature by restoring and preserving access to trails nationwide. With access to 10,000 miles recently completed, the brand committed to an additional 10,000 miles expected to be completed in 2023 through a partnership with the National Park Foundation. As the creator of the granola bar category in 1975, Nature Valley offers a wide variety of products across bars, snacks, and granola selling 3.6 billion granola bars worldwide each year. Visit NatureValley.com to learn more.
About General Mills
General Mills is a leading global food company whose purpose is to make food the world loves. Its brands include Cheerios, Annie's, Yoplait, Nature Valley, Häagen-Dazs, Betty Crocker, Pillsbury, Old El Paso, Wanchai Ferry, Yoki, BLUE, and more. Headquartered in Minneapolis, Minnesota, USA, General Mills generated fiscal 2020 net sales of U.S. $17.6 billion. In addition, General Mills' share of nonconsolidated joint venture net sales totaled U.S. $1.0 billion. Visit GeneralMills.com to learn more.
About Printpack
Founded in 1956 and headquartered in Atlanta, GA, Printpack is a privately-held manufacturer of flexible and specialty rigid packaging. Employing over 3,200 associates worldwide, the company operates 19 manufacturing facilities in North America. By combining our unique insights into consumer preference with advanced technological capabilities, Printpack can heighten brand recognition and help capture market share. Visit Printpack.com to learn more.