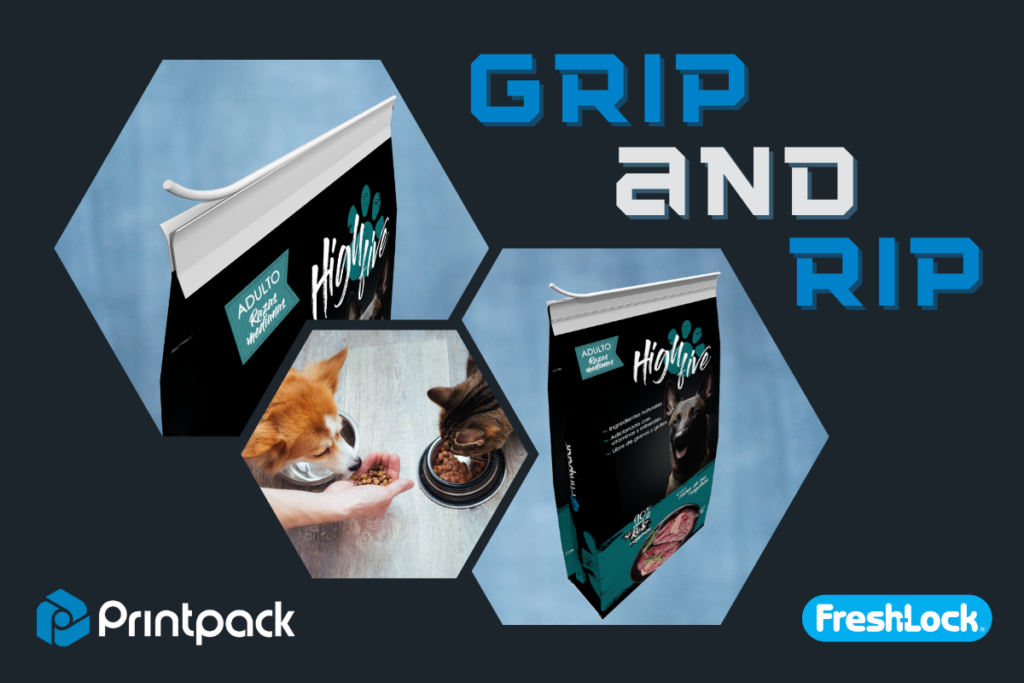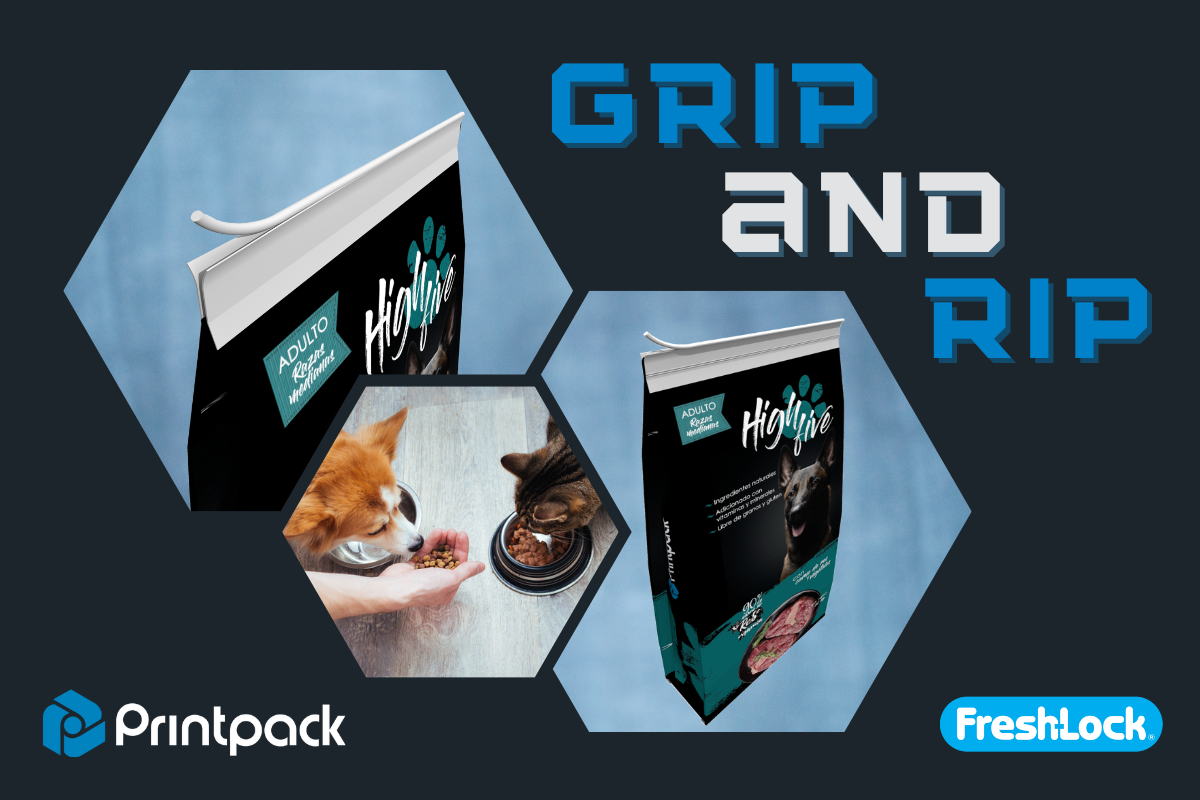 New packaging technology from Printpack provides a hermetically sealed alternative for large-format bags.
Printpack, a leading flexible and specialty rigid packaging manufacturer announces a new solution to sewn-top bags featuring Fresh-Lock® Grip And Rip technology. This collaboration led to the development of a new way to open large-format bags weighing up to 50 pounds. With the advancement, Printpack now offers brands a way to easily open those large bags, prevent spoilage, deter pests, and help keep food fresher for longer.
The woven polypropylene (WPP) bag is one of the preferred structures for large-format packaging of dry goods due largely to its durability and low cost. But to date, WPP bags have not been the best alternative for ensuring hermeticity, especially when using traditional sewn tapes as bag closures or easy-open features. Puncturing a bag for sewing creates a potential risk for infestation and spoilage. However, a lack of better, safer alternatives means that sewn tape remains a low-cost — if risky — method to easily open a WPP bag without tools.
Printpack worked closely with the Fresh-Lock team at Presto Products who developed their new Grip & Rip feature to replace the sewn tape. This value-added feature makes the bags easy to open without a tool, provides tamper evidence, and preserves the product's integrity for safety. Food safety is one of the most important concerns for a pet food or ingredient manufacturer, especially when it comes to ensuring that all links in the food safety chain are properly maintained and protected against pests and infestation.
"This innovative, easy-open solution will allow customers to take full advantage of hot-air sealing technologies after filling the bags, thereby increasing hermeticity and virtually eliminating the risk of infestation throughout every stage in the supply chain — and all while maintaining a premium look," said Rudolf Schaich, Marketing Development Manager, Printpack.
The new opening feature complements the range of Printpack's bag finishing options, including hot air sealing and slider-zipper reclosing. To learn more about this product and the rest of Printpack's industry-leading capabilities, visit Printpack.com today.
About Printpack
Founded in 1956 and headquartered in Atlanta, Georgia, Printpack is a privately-held flexible and specialty rigid packaging manufacturer. Employing over 3,200 associates worldwide, the company operates 19 manufacturing facilities in the United States and Mexico. With investments in leading-edge technologies and a deep understanding of customer needs, Printpack has partnered with the most successful CPGs to launch new products and grow market share. Printpack's purpose, Preserving and Enhancing People's Lives, is continually demonstrated by the commitment to sustainable products, active involvement in the local communities, and the empowerment of all associates.
About Fresh-Lock® Flexible Packaging Closures
The Fresh-Lock® brand is the market leader in press-to-close zipper and track & slider reclosable solutions for flexible packaging. With a solution for practically any packaging need, our closures help drive consumer loyalty and brand differentiation through functional benefits. The Fresh-Lock® brand team offers specialized packaging machinery and quality components for fast and efficient track and slider applications. Fresh-Lock® products are designed and produced by Presto Products, a business of Reynolds Consumer Products. www.Fresh-Lock.com