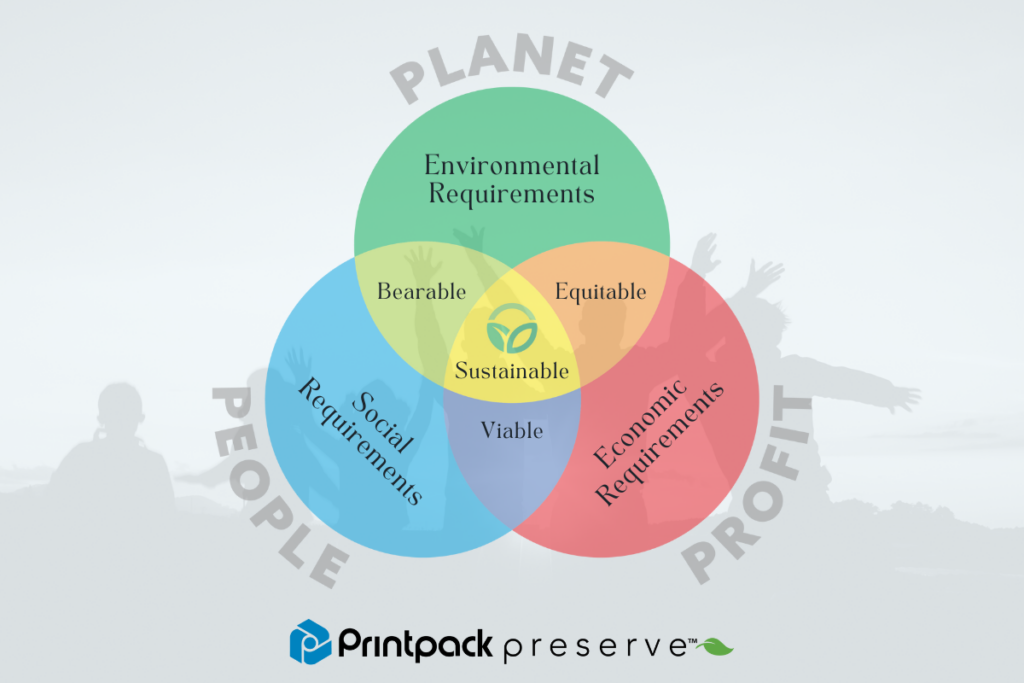 Moving from Bearable to Sustainable by Daniel Cluskey
In 1987, the United Nations released a lengthy report known as "The Brundtland Report." One of the key takeaways from this report was the three pillars of Sustainability, which are now used across businesses, governments, and NGOs. As shown in the diagram above, sustainability can only be achieved when the solution is viable socially, environmentally, and economically.
Until recently, it has not made economic sense to invest in recyclable flexible packaging. Some brands with a vested interest in sustainability tolerated the bearable nature of recyclable packaging because of their corporate mission, but it cost them money. This is changing. Because of shifting consumer trends, activist groups pressing lawsuits, and incoming Extended Producer Responsibility (EPR) laws, recyclable packaging will soon become the best option for businesses economically.
In markets where recyclable packaging is not common, brands can differentiate themselves by investing in recyclable packaging. Between 2014 and 2018, sustainably marketed products grew seven times (7X) faster than conventionally marketed products in the same category (Source). Having recyclable packaging adds to the sustainable story of a product. The few early adopters of recyclable packaging willing to tolerate these bearable cost increases will benefit from that extra market share until their competitors catch up.
But just making sustainability claims isn't enough. Those claims need to be backed up. Today, brands are getting dragged into expensive lawsuits by activists when their claims go too far. Just last year, The Sierra Club sued Coca-Cola for claiming that their bottles were "100% Recyclable", even though they included a BOPP label that was not recyclable (Source).  Similarly, pet food distributors in California were fined in August of 2021 for claiming that their non-recyclable packaging was recyclable (Source).  Lawsuits make great Valid Business Reasons. These stories highlight the risk of making unfounded recyclability claims. The risk of lawsuits increases the economic viability of investing in recyclable packaging by partnering with companies like Printpack who are experts in backing up our claims.
In the future, EPR will make it even more expensive to use non-recyclable packaging, and brands that are not prepared to make the switch will have a hard time adapting. In July of 2021, Maine became the first US state to enact an EPR law, and Oregon followed shortly thereafter (Source).
Several other states are also considering similar legislation. The passage of these laws shifts the risk of using non-recyclable packaging from a theoretical risk of losing market share or being sued by an activist organization. Once EPR laws are passed the risk will be a concrete fee for every non-recyclable package a company produces. We need to make sure our customers are ready for this change.
As EPR laws are enacted, sustainable packaging will move from something that a few brands tolerate as bearable because it is in line with their mission to something that everyone needs to do because it is the most economical decision. Then recyclable packaging will truly be sustainable.
About Printpack
Founded in 1956 and headquartered in Atlanta, Georgia, Printpack is a privately-held flexible and specialty rigid packaging manufacturer. Employing over 3,200 associates worldwide, the company operates 19 manufacturing facilities in the United States and Mexico. With investments in leading-edge technologies and a deep understanding of customer needs, Printpack has partnered with the most successful CPGs to launch new products and grow market share. Printpack's purpose, Preserving and Enhancing People's Lives, is continually demonstrated by the commitment to sustainable products, active involvement in the local communities, and the empowerment of all associates.