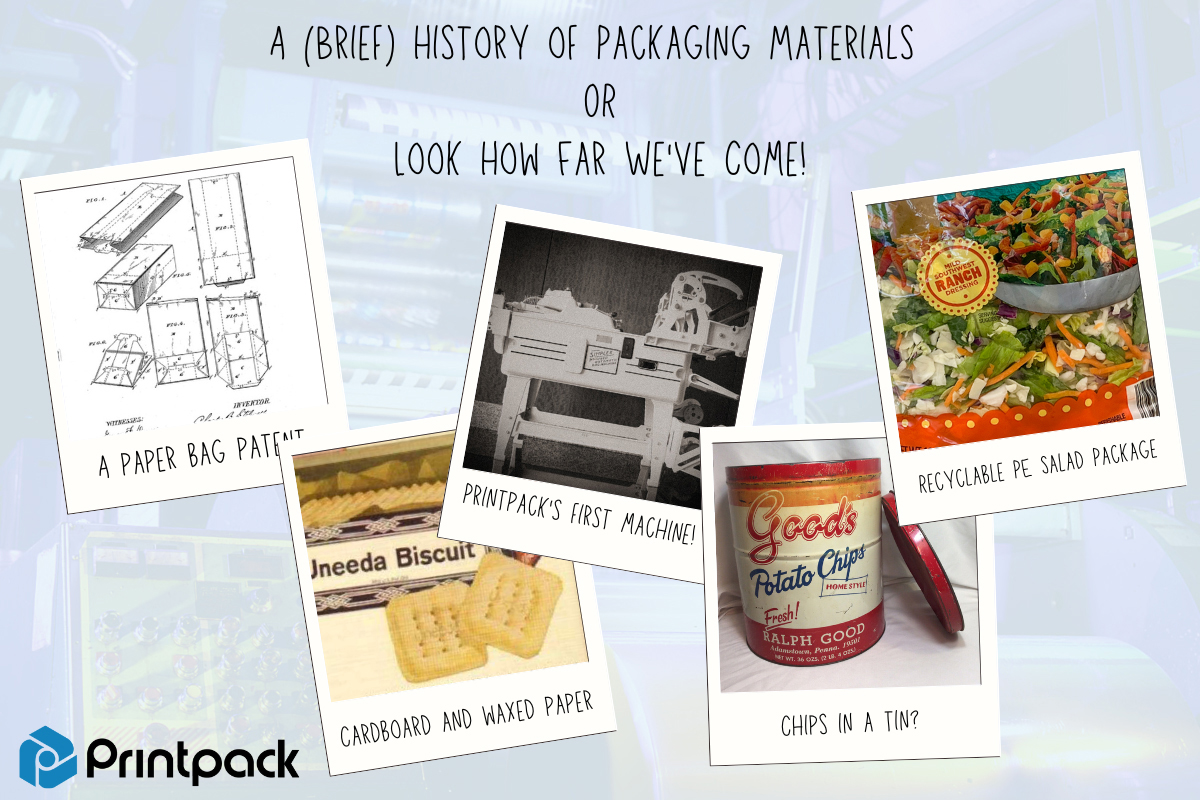 Beginning with simple containers for transporting food, packaging has come a long way to enhance our everyday lives. Find out how simple boxes and tins led to generations of chip bags, resealable pouches, and ring-pull beer cans. This history offers a fascinating look at who created the inventions we still use today and how innovations in design have shaped consumer choices.
PAPER
Paper is likely the oldest example of what we call "flexible packaging" today. With highly sustainable options and a long history of use, this material is timeless.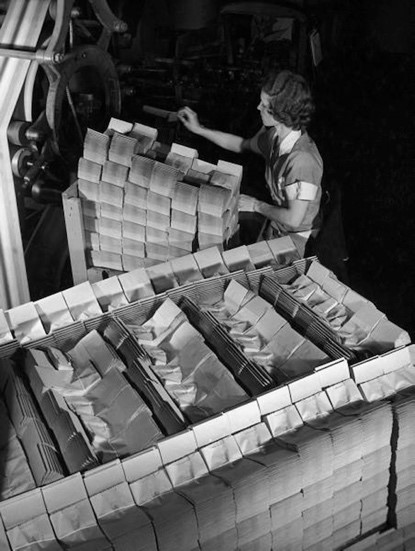 1839: A Boston-based jeweler, Aaron L. Dennison, created the first paperboard packaging, producing rigid boxes for himself and other local jewelers.
1850: With the introduction of individual cartons and production of cardboard boxes to carry goods, hand printed labels began to be used on bottles and cartons. Box making plants began using specialized equipment to speed production and reduce costs.
1844: Commercial paper bags were first manufactured in Bristol, England.
1852: Francis Wolle invented the first paper bag-making machine in the United States.
1896: Packaged in an inner waxed paper wrap and a colorful branded overwrap, Uneeda soda crackers established the paperboard folding carton as a premium means for packaging, marketing, and distributing food products around the country.
1900: Cellulose acetate was first derived from wood pulp and developed for photographic uses in 1909.
1905: Machinery was invented to automatically produce in-line printed paper bags. The first true "flexographic" press was invented in France.
1978: Printpack becomes the largest flexible packaging converter in the United States and the largest supplier of flexible packaging materials to the snack food industry.
TODAY: With easily accessible methods like curbside and the strong consumer perception of eco-friendly packaging, paper is the most widely recycled type of packaging, and the fiber recycling stream has the most robust infrastructure of any recycling stream in North America. There are also options for compostable and reusable packs, while still maintaining the flexibility, sturdiness, and easy printing benefits of paper.
PLASTIC
Plastic packaging has clearly proved its place as a staple in the world of retail, but it hasn't always held that role. In fact, plastic packaging was born out of an accident and soon manufacturers began looking for uses for the new material. Since then, plastic packaging has gone through several innovations over time, including those that help reduce waste and save energy.
1907: First commercial plastic, called Bakelite, "the material of a thousand uses", was invented. Many scientists worked with resins to find an alternative to shellac but failed to make a successful material. Leo Hendrik Baekland created this resin that was cast into lead molds and cured in heated ovens, making it hard, heat resistant, and resistant to acids. By the 1920s it was used extensively as a packaging material, particularly for toiletries.
1908: Cellophane is invented by Jacques Edwin Brandenberger, a Swiss chemist and textile engineer. The invention came as an accident, through an attempt to make clothing stain-resistant with the addition of a flexible, clear film.
1912: Whitman's candy company initiated the use of cellophane for their Whitman's Sampler, marking the first use of cellophane by the candy industry. They remained the largest user of imported cellophane from France until nearly 1924, when DuPont built the first cellophane manufacturing plant in the US.
1927: DuPont scientist William Hale Charch and a team of researchers figured out how to make cellophane moisture-proof, opening the door for its use in food packaging.
1933: Polythene is invented by ICI, a British chemicals company. The first industrially practical polyethylene synthesis was discovered by accident by Eric Fawcett in England. Years later, it became a tremendous hit with an unprecedented rise in consumer popularity as the first plastic in the US to sell more than a billion pounds a year.
1954: Zipper-seal bags, invented by Robert W. Vergobbi, were initially created as pencil pouches, but their convenience soon lent them to food storage, including Ziploc bags for individual use.
1956: J. Erskine Love, Jr. founds Printpack with only one piece of equipment (a used cellophane bag machine), and an abundance of focus. First customer shipment to Riviana Foods – still a customer today.
1970s: Many new plastics developed for packaging, including the PET bottle for carbonated drinks. Child-proof closures first used. Bar codes became common on packaging.
1980s: Plastic tubes for such items as toothpaste, cosmetics and medicines took over from metal tubes. Growth of convenience food packaging, including special designs for microwave ovens.
1986: Sargento shredded cheese became the first consumer product offered in a resealable pouch. Most shredded cheeses — and then deli meats — soon followed.
1988: The Society of the Plastics Industry began a resin identification coding system that provides a way to identify plastic resins used in packaging containers.
1996: Salad-in-a-bag packaging (metallocene-catalyzed polyolefins) was developed, with the goal of reducing food waste and making it easier for consumers to buy fresh produce.
2000s: Certain plastics can now be put in a hot oven for cooking food. Technology can change the composition of inert gases in packaging to preserve food longer. Stand up pouches for liquid and dry food products come on the market.
TODAY: Plastic packaging has come a long way since its inception in the 20th century. Decades after its creation, consumers began to express concerns about the environmental impact of the new materials. This led to a shift toward sustainable options – including recyclable polyethylene (PE) packaging, which offers many of the benefits of current flexible packaging including ease of transport, product to package weight ratio, reduction of carbon footprint, as well as several barrier options.
METAL
From the first attempts to make containers using metal in the 18th century to the innovations that have been made in recent years, metal has played an important role in preserved food packaging and long-term storage. Before tin cans, people had to rely on salting, curing, smoking, and pickling to keep their food from spoiling. This material has passed the test of time and still sits proudly on the shelves of households everywhere – sometimes for years!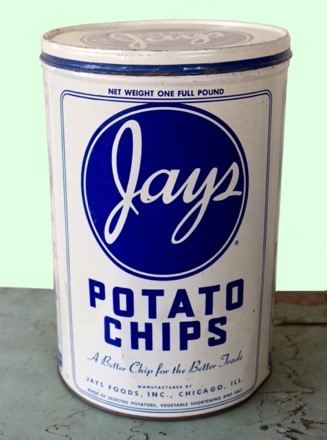 1813: The first commercial canning factory was launched in England packaging oysters, meats, fruits, and vegetables. Tin cans were the only way to preserve foodstuffs.
1830: Decorated tinplated cans started to become widespread with biscuits and cakes.
1847: Air-tight metal cans were widely used. The patent for the first machine to stamp cylindrical can ends belonged to Allan Taylor, as other new processes helped speed up production.
1888: Alcoa (Aluminum Company of America) is formed.
1914: Charles Martin Hall had brought the cost of aluminum down to 18 cents a pound and it was no longer considered a precious metal. Potato crisps were sold in tins to keep them fresh.
1926: Reynolds switched from tin foil to aluminum foil. Years later, the company created the first high-speed, gravure-printed foil, aluminum bottle labels, heat-sealed foil bags for foods and foil-laminated building insulation paper.
1934: First beer cans patented. Aluminum foil caps first seen on milk bottles.
1967: Ring-pull openers for cans introduced.
1986: Printpack installs industry's first in-house metalizing operation dedicated to producing only barrier packaging films and provides backside-printed Flexi-media Lays-Ruffles promotion.
TODAY: The wave of sustainability in the late 20th century began a new era that inspired metal can recycling. Manufacturers now emphasize using less material to make lighter cans. Further, aluminum is among the most sustainable materials of all metals, due to its ability to maintain a very long shelf life and the ability to be recycled in perpetuity without degradation of quality.
*********
About Printpack
Printpack is a leading manufacturer of flexible and specialty rigid packaging with over 60 years of experience helping brands improve retail visibility, heighten brand awareness, and capture market share.  Printpack combines unique insights into consumer preference with advanced technological capabilities in order to convert packaging concepts into reality. Headquartered in Atlanta, GA, Printpack is a privately held company that believes cooperation and integrity result in sustainable innovation.