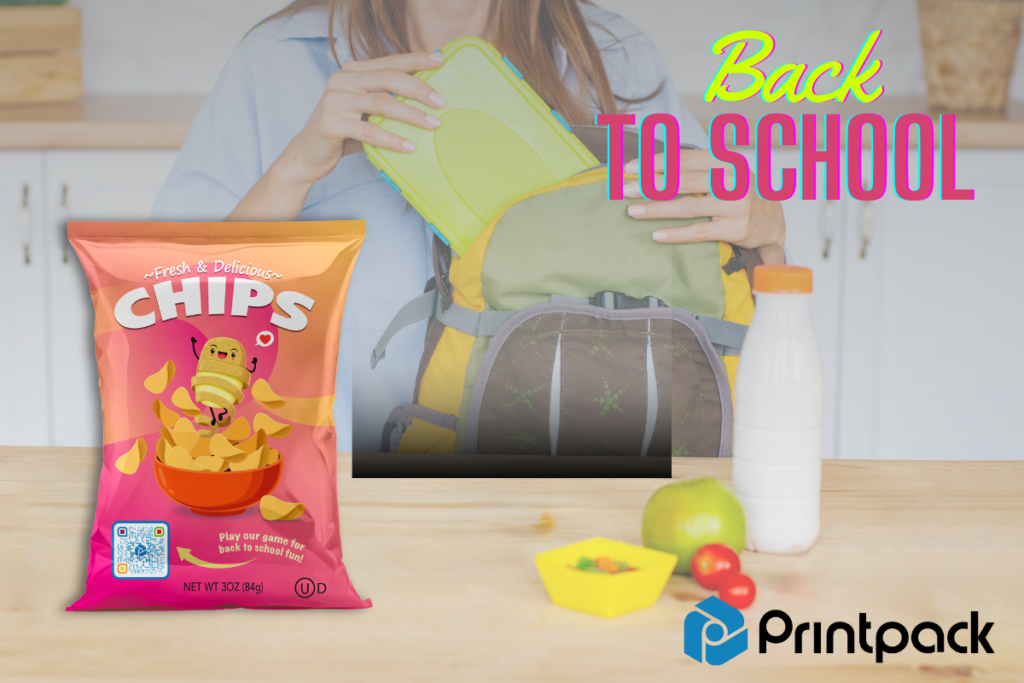 With the arrival of the back-to-school season, parents start to focus on brands that will land a spot in the daily lunchbox. 87% of parents report their children influence their buying decisions, so for brands, securing a reputation as a kid's favorite snack is a priority. Here are four ideas that your brand can implement to optimize kids' food packaging and boost sales for the school year.
Visual & Interactive Content
An exciting, well-designed kids' food package can catch the eye of both children and parents, leading to increased interest and a higher chance of purchase. The more time a consumer spends interacting with a product, the more likely it will be remembered and purchased in the future. Unique printing techniques such as thermochromic (changes color with temperature), photochromic (changes color with sunlight), and glow in the dark inks can make mealtime much more entertaining and appealing.
Recognizable characters and retro/collectible designs also work well to capture attention. Character licensing is a powerful strategy that uses popular characters from TV shows, movies, and cartoons on back to school packaging. When it comes to back-to-school products, children are more likely to choose items featuring their favorite characters, and parents are inclined to buy due to the emotional connection their children have with those characters. Collectible stickers are also a popular feature that works to build recognition and awareness.
While on-pack games keep kids entertained during mealtime, interactive digital content can effectively lead to an extension of brand interaction. Online games and social media contests or promotions can attract today's tech-savvy Gen Alpha kids.
Single Serve Packs for Convenience
A one-portion, easy-open pack not only offers kids a more enhanced eating experience, but also offers convenience to parents. Parents can rely on the brand's packaging to measure out the appropriate amount for a meal instead of having to pull servings out of a larger sized package. While some may see single-use as wasteful, this form of packaging can actually reduce the use of press-to-seal bags to divvy out servings from a larger pack and can open the door for brands to use sustainable options for materials. In addition, single-serve provides safety – sharing with classes is made sanitary and simple, while the food stays fresh and sealed until consumption without the need for constant reopening of larger packs.
Multipack Options for Variety
Families often must account for everyone's unique and different tastes. When brands offer many options in one multipack, parents and kids can mix and match based on favorites. While 48% of consumers select variety packs for more snacking options, parents have very specific reasons for choosing this form of kids' food packaging. 40% of parents lean towards multipacks so family members get the snack they want, 32% use them for portion control, and 29% believe they help control food waste. Other benefits include having more variety and less repetition in lunches, thus increasing the likelihood of consumption. Additionally, kids who come to school with the "cool snacks" gain bragging rights over their friends.  
Clear Labelling for Safety and Sustainable Packaging
Parents are becoming more aware of the many allergens of concern in today's classrooms. In fact, 16% of parents report their kids experience food allergies and 12% report food sensitivities – therefore 1 in every 6 child's food allergies need to be taken into consideration by parents who send food into the classroom (Source: Mintel). Brands can use package design to minimize worry among parents either by labelling back–to–school packaging as "school friendly" or as "not containing major allergens" which the FDA identifies as: milk, eggs, fish, shellfish, tree-nuts, peanuts, wheat, sesame, and soy. QR codes for product tracing and labels with transparent information about sourcing and sustainability put parents at ease as they seek to make responsible choices for their children and the environment. 
Recap
Research and consumer behavior indicate that well-crafted back to school packaging can create lasting impressions, encourage children's preferences, and sway parents' choices. An appealing unboxing experience can make children excited about using or consuming a product and contribute to a positive brand perception.
Develop fun and interactive content on-pack to win kids' attention and brand recognition.
Create single-serving snacks and meals for convenience and safety.
Provide a variety of options and reduce food waste or fatigue with multipacks.
Include clear labels about allergens and ethical concerns for a worry-free purchase.
*********
About Printpack
Printpack is a leading manufacturer of flexible and specialty rigid packaging with over 60 years of experience helping brands improve retail visibility, heighten brand awareness, and capture market share.  Printpack combines unique insights into consumer preference with advanced technological capabilities in order to convert packaging concepts into reality. Headquartered in Atlanta, GA, Printpack is a privately held company that believes cooperation and integrity result in sustainable innovation.