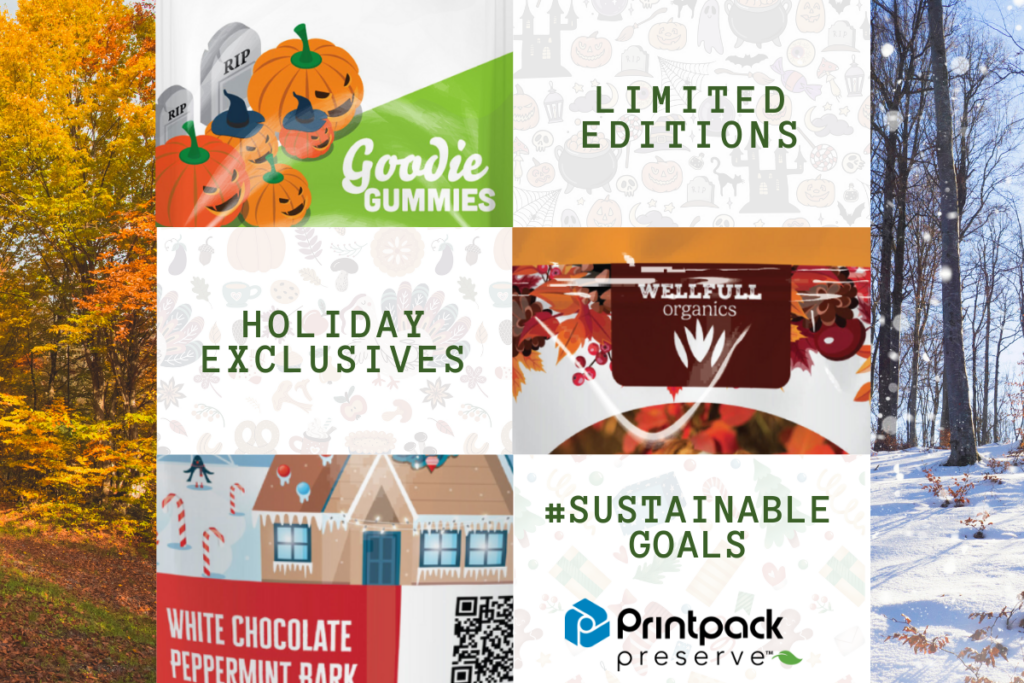 With holiday packaging already beginning to fill the retail aisles, the upcoming season presents a unique opportunity for brands to experiment with sustainable packaging. Limited edition products or flavors, characterized by novelty and exclusivity, are perfect candidates for these trials. Brands can evaluate customer feedback and measure the feasibility of implementing sustainable designs on a broader scale before expanding into a broader market.
The cost of sustainable packaging is often a pain point for CPG brands, so using opportunities like holiday designs to roll out these structures in a smaller way is a scalable solution. Once tested, a boost in sales can justify recreation for future limited-edition campaigns or even full product lines. Pilot labs can also assist with initial testing for these structures, allowing smaller batches of unreleased packaging to be reviewed thoroughly for viability.
It is estimated that consumers spent $3.1 billion on Halloween candy last year – exceeding pre-pandemic sales and making it clear that the holidays bring more purchasing of salty snacks and confectionery. During this time of year, custom holiday packaging designs can:
Create limited edition appeal and value
Develop a sentimental and emotional connection with consumers
Encourage gifting
Highlight brand creativity and recognition
Build or grow retail partnerships
Present an ideal opportunity to test run sustainable packaging
Year-round, consumers are more likely to choose products with sustainable packaging. McKinsey reported that "about half of US consumers are willing to pay more for sustainable packaging," and "products making environmental, social, and governance claims averaged 28% cumulative growth over the 5-year period."
Let's unwrap three of the top food markets that are ideal for testing sustainable structures this holiday season:
CONFECTIONERY
As the most popular form of seasonal food, confectionery products offer an excellent opportunity to evaluate sustainable options. As part of an initiative to make 100% of its packaging reusable, recyclable, or compostable by 2025, Mars Wrigley developed an alternative packaging for their famous Skittles candy. Sourced from plant seeds and fully compostable, the 2022 update to the packaging hopes to inspire other CPG companies to adopt the structure.
For candies that come in bulk or loose candies in resealable pouches, PE recyclable pouches are an exceptional option to bring to market during the holidays. The Preserve™ PE Recyclable Pouch meets all of the APR Design Guidelines and is prequalified for the How2Recycle store drop-off logo. It's PE-based structure also allows for additions of PCR or renewable content, making it an excellent choice to ensure that waste is properly managed and given a second life this holiday season.
As the most robust infrastructure of any recycling stream in the US, recyclable paper packaging remains a strong contender for confectionery products. As we gear up for the festive celebrations, opting for recyclable paper packaging allows brands not only to reduce their carbon footprint but also to send a clear message of responsibility to their customers. Plus, it can add a delightful, rustic charm to your holiday treats.
SALTY SNACKS
The salty snacks industry is not just about satisfying our cravings; it's also making significant strides towards sustainability. Seasonal editions that embrace eco-friendly packaging, reduce waste, and promote responsible consumption help salty snack brands build a more sustainable future for snack enthusiasts and the planet. Off The Eaten Path, a Frito-Lay brand, created a compostable chip bag. Every material used in the production of this package (print web, barrier sealant webs, inks, and adhesive) meets the certification requirements for industrial compostability. The innovative packaging also includes an on-pack Biodegradable Products Institute (BPI) icon that informs customers about the claims, and a QR code provides details about composting options.
SNACK BARS
Another market that can use the holidays to take a proactive approach towards eco-consciousness is snack bars. From recyclable and compostable wrappers to responsible sourcing, many companies are proving that you can enjoy your favorite on-the-go snack while still making a positive contribution to the environment. Printpack partnered with General Mills to develop the first plastic film bar wrapper designated as store drop-off recyclable by How2Recycle for the snack bar industry. This bar wrapper, made from PE, was created for the iconic Nature Valley Crunchy granola bar. Printpack's compostable Sealable Flow Wrapper is made with pre-certified industrial compostable films, inks, and adhesives to allow brands to design for certified industrial compostable packaging. Made with biobased components, this structure allows brands to have solutions that are both renewable and compostable.
RECAP:
If your brand is already going through the process of creating a new design for the holidays, why not develop it on a sustainable structure for the consumers who look for eco-friendly options? Take the first step in meeting your company wide sustainability goals by using this ideal time for short run market testing.
*********
About Printpack
Printpack is a leading manufacturer of flexible and specialty rigid packaging with over 60 years of experience helping brands improve retail visibility, heighten brand awareness, and capture market share.  Printpack combines unique insights into consumer preference with advanced technological capabilities in order to convert packaging concepts into reality. Headquartered in Atlanta, GA, Printpack is a privately held company that believes cooperation and integrity result in sustainable innovation.