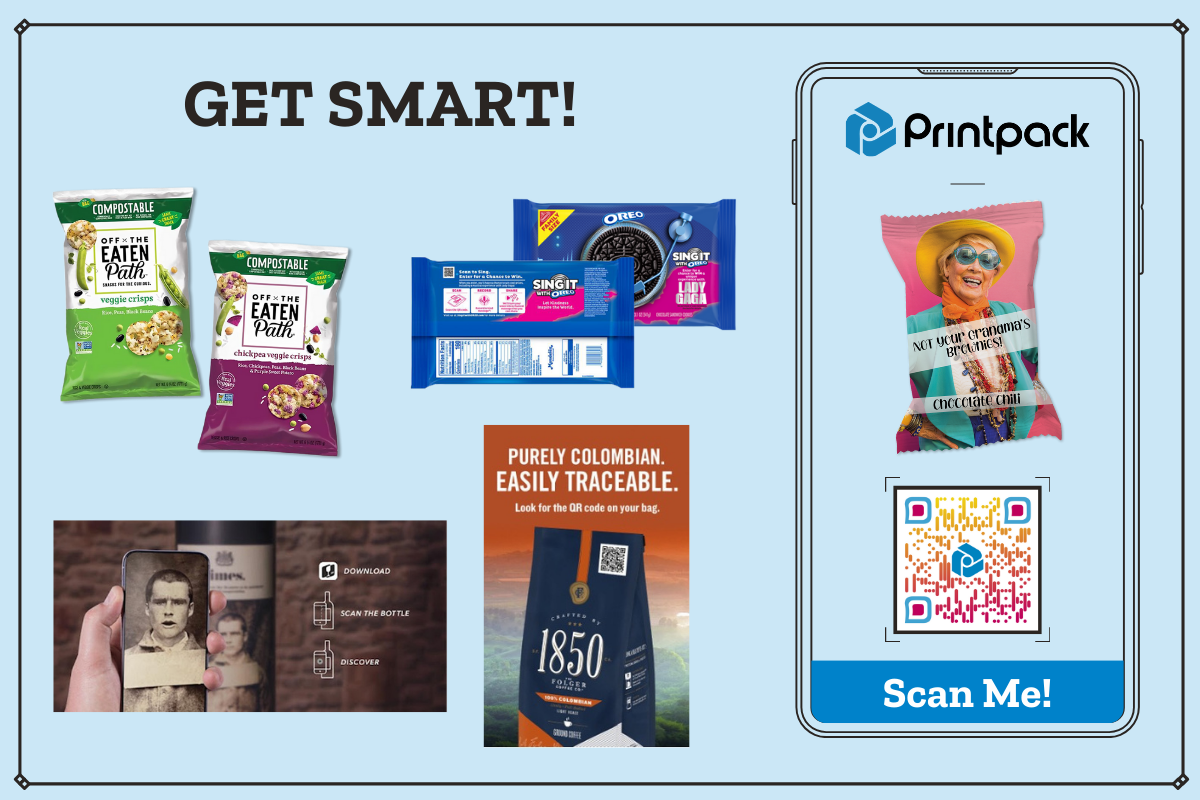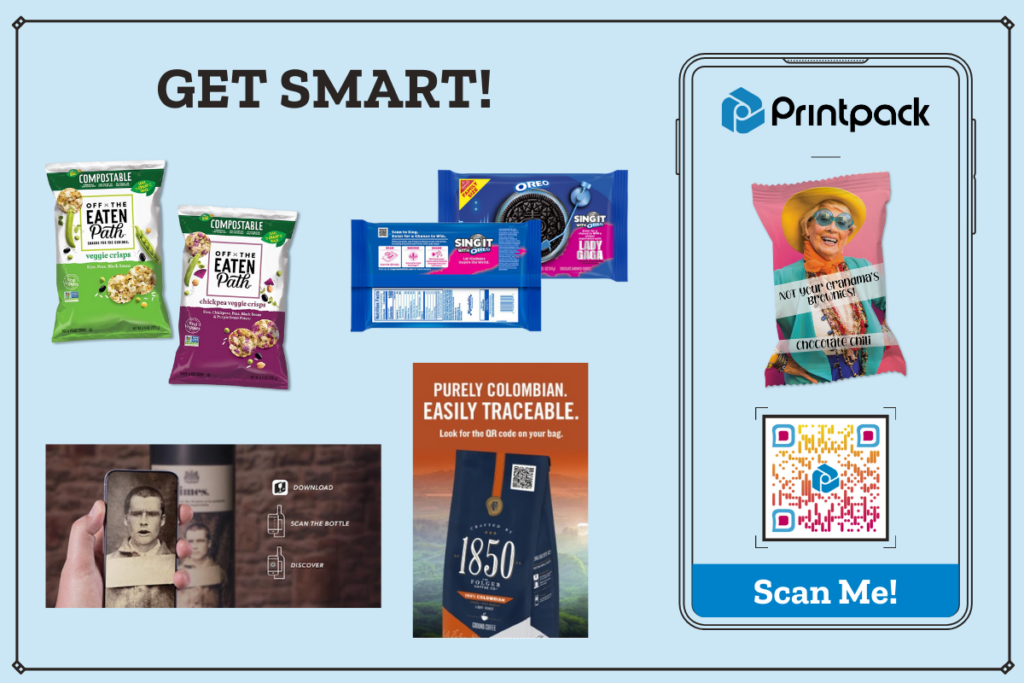 Top 4 Ways Your Brand Can Use Smart Packaging to Create a Unique Customer Experience
Connecting with customers digitally has become one of the top priorities for B2C brands' marketing efforts today. The market is crowded with digital strategies, so it's time to get creative with how your brand wants to enter the larger mobile consumer culture. The next big thing? "Smart" packaging!
Using smart packaging, your brand can bridge the gap between your physical on-shelf product and a powerful online presence. QR codes, or Quick Response Codes, are two-dimensional bar codes that allow consumers to scan product information using their smartphones. This innovation keeps packaging minimalist and clean while still being able to offer vital information that consumers can "double-click" into.
Four ways that this small symbol can help tell the story behind your brand and offer valuable product details are:
Tracing Product Source & History
There is a growing trend among consumers to evaluate the origins of their purchases. When asked whether buying ethically produced products matters, 81% of shoppers responded yes, while 83% stated that they would be willing to pay more for a product with proof of this.
Consumers now have many questions about where their products come from and how they are made. Are the ingredients ethically produced? Does the producer treat their workers well and pay them fairly? Are they able to give back to the community? These are very complex questions to answer on pack. With the inclusion of a QR code on their packaging, brands can offer consumers the answers by enabling them to track the steps of a product's journey from origin to the store shelf, as well as confirm its authenticity.
Through QR codes on K-Cups and bags of ground coffee, 1850 Coffee customers can trace their product back to its origin. Coffee drinkers can unlock a hub of information, including where the coffee was grown, processed, and exported, giving them access to unprecedented transparency.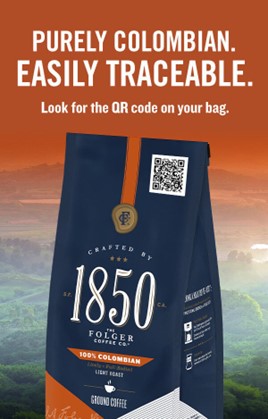 Source: https://www.trendhunter.com/trends/traceable-coffee
Sustainability Efforts & Disposal Instructions
As the demand for sustainable options grows, it's more important than ever to effectively communicate to consumers about your recyclable or reusable packaging. Products marketed with sustainability claims delivered over half of CPG market growth in the past five years, which was 7x faster growth than products not marketed as sustainable.
Providing clear instructions for your product's end-of-life and its intended reuse makes it easy for consumers to participate in your brand's sustainability vision. However, featuring ALL sustainability details on-pack can often be complex and busy.
The new Off The Eaten Path industrially compostable package creates an innovative experience for environmentally conscious consumers. This fully certified, industrial compostable, biobased package includes eye-catching, clear, and concise "compostable" messaging. An interactive QR code brings consumers to details about composting options.
Source: https://www.foodmanufacturing.com/packaging/news/21735368/fritolays-off-the-eaten-path-brand-launches-compostable-bag
Memorable Moments
Offering an incentive can encourage consumers to scan on-pack codes and interact digitally with your brand. Linking a QR code to a landing page that is dedicated to coupons, discounts, free product trials, loyalty programs, or sweepstakes can be a great way for brands to connect with both new and returning consumers.
When they launched the Lady Gaga-themed cookie, Oreo used smart packaging to encourage fans to send uplifting OREOgrams to loved ones for the chance to win an assortment of Lady Gaga-themed promotions — including a grand-prize concert/meet-and-greet experience. This program also offered instant win prizes including Oreo swag, Oreo Music Boxes, and Oreo branded headphones. Offering items branded with the company name is a double-win for spreading brand awareness.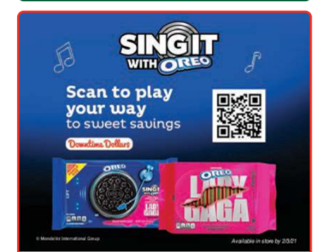 Source: https://pathtopurchaseiq.com/oreo-stocks-shelves-lady-gaga-cookies
Brand Storytelling
Smart packaging enables brands to supplement basic, common messaging with a unique, meaningful brand story—and extend it to an online experience. More than half of consumers expressed that brand stories had an impact on their decision to purchase. An intricate on-pack narrative can conflict with an artistic or minimalist design, so many brands decide to transform their stories into interactive experiences.
Popular wine brand 19 Crimes created a first-of-its-kind augmented reality (AR) app to tell its compelling brand origin story. The creators were inspired by British criminals who were deported to Australia in 1788. Using the app, consumers hover a mobile device over a bottle's label. This brings the character on the label to life, with each sharing his story of rule-breaking that sent him across the ocean to Australia. This feature grew the brands' popularity and offered a unique opportunity to "let these historic criminals-turn-colonists tell their own stories in a way that resonates with today's consumer."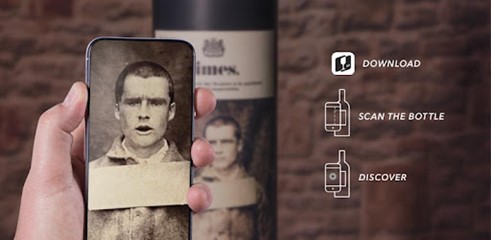 Source: https://play.google.com/store/apps/details?id=com.tweglobal.ar19crimes&hl=en_US&gl=US
Today's forward-thinking brands are empowering consumers through smart packaging labels and compelling storytelling You can introduce your consumers to these unique experiences, and provide them with a seamless path to learn more about your brand, its story, and its sustainability efforts.
About Printpack
Founded in 1956 and headquartered in Atlanta, Georgia, Printpack is a privately-held flexible and specialty rigid packaging manufacturer. Employing over 3,200 associates worldwide, the company operates 19 manufacturing facilities in the United States and Mexico. With investments in leading-edge technologies and a deep understanding of customer needs, Printpack has partnered with the most successful CPGs to launch new products and grow market share. Printpack's purpose, Preserving and Enhancing People's Lives, is continually demonstrated by the commitment to sustainable products, active involvement in the local communities, and the empowerment of all associates.