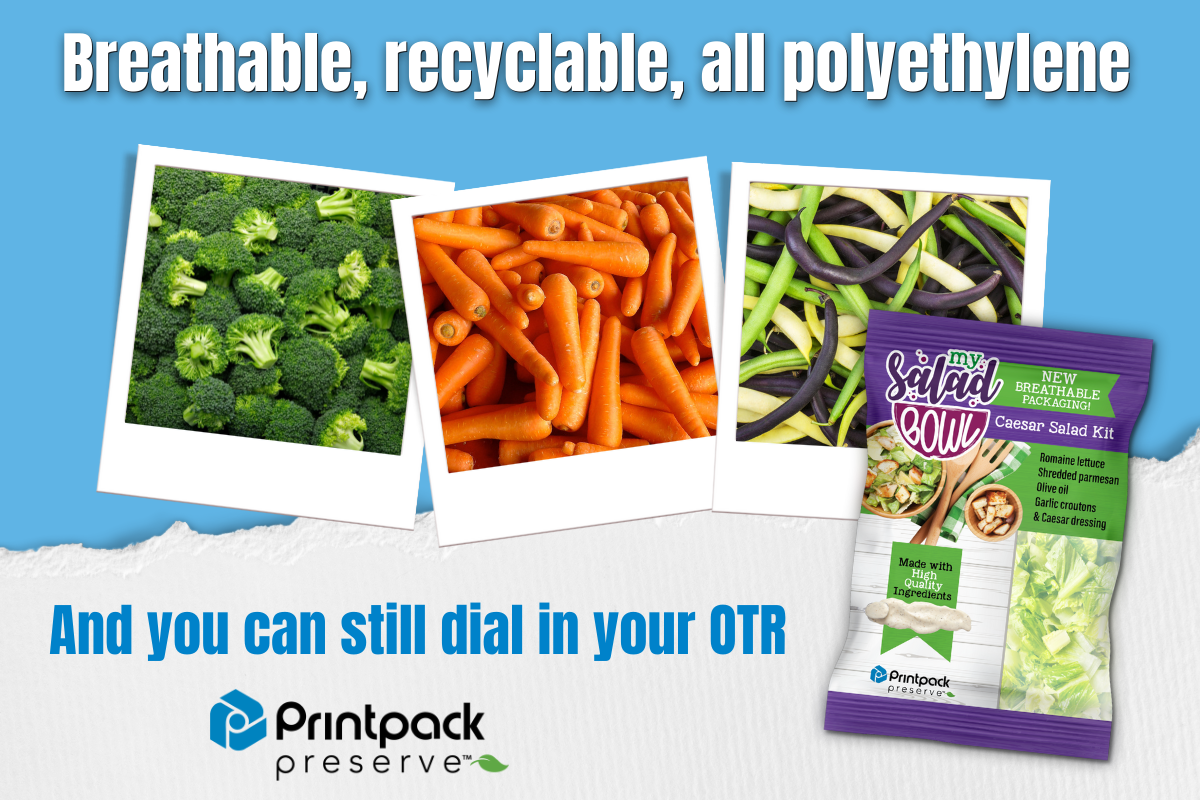 Atlanta, GA, August 24, 2021 – Printpack announces the expansion of its PRESERVE™ line of store drop-off, recyclable packaging solutions for fresh produce. In addition to a microperforated solution, the recyclable PE (polyethylene) product line expansion now includes breathable OTR (Oxygen Transmission Rate) films developed to allow for specific OTR breathability requirements. "For fresh produce, where each produce type has a unique breathability specification, there's no one size fits all. Maintaining product quality, taste, and shelf life with recyclable PE films, while delivering on manufacturing performance, takes a multi-prong approach. At Printpack we are excited to have developed a wide range of microperforated and tailored OTR packaging options that meet these needs," explains Amy Golden, Senior Product Development Engineer.  Printpack's portfolio of PRESERVE™ films are pre-qualified by the How2Recycle® organization and approved for in-store drop-off recycling.
Neary half of US consumers are concerned about the environmental impact of packaging and many of them are looking for more sustainably packaged products. To answer this call, Printpack is heavily invested in finding ways to achieve sustainability gains in fresh produce through recyclable packaging, the use of bio-based materials, reductions in the gauge and weight of packaging, and shelf-life extension. With many consumers looking specifically for more recyclable alternatives to traditional packaging, Printpack has focused its efforts on solutions which offer the highest probability of being recycled today. "Given our current recycling systems, recyclable polyethylene-based packaging is the best option to give consumers the sustainable alternative they are looking for today," explains Daniel Cluskey, a Product Stewardship Engineer with Printpack's Office of Sustainability.
For retailers and brands who have set sustainability goals specific to packaging, Printpack's PRESERVE™ solutions can help them meet their commitments to use recyclable or compostable packaging and incorporate renewable or PCR content.
*************
Want to receive information about new sustainable product options, packaging trends, and other relevant Printpack marketing content? Jump on our subscription list, and you will be the first to get the news.